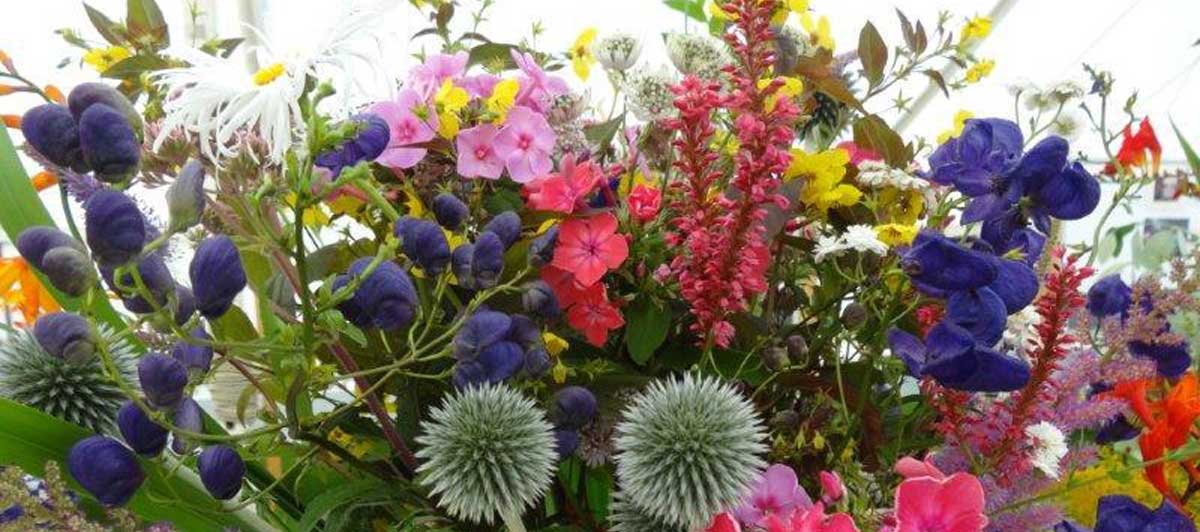 KILMINGTON VILLAGE SHOW
The 2021 Show has been replaced with a more limited Autumn Show on 11th September at the Village Hall. Details will be available soon, including classes and how to enter.
Saturday, 11th September 2021
In this unusual, Covid-19-influenced, year our July Flower Show was cancelled (as it was last year!) but undaunted, we have instead arranged a celebration of YOUR gardening achievements to be held in the Village Hall as part of the Kilmington Village Show. Entries are free and you don't have to be a Gardening Club member to enter. All displays should have been grown by yourself in your own garden or allotment.
Entries should be brought to the Village Hall between 10.00 a.m. and 12 noon. Judging will be decided by visitor vote. The classes are described below.
N.B. Covid-19: To comply with Government advice, we have reduced the type and number of classes. This will enable us to create an event where social distancing, etc. can be maintained.
DISPLAY CLASSES
FLORAL DISPLAYS
1. A mixture of cut yellow/orange garden flowers, displayed in your own vase.
30cms max. diameter.
2. Floating flowerheads, displayed in a shallow container. 20cm max. diameter.
3. A vase of cut flowers, grown in your own garden, displayed in your own vase.
45cms max. diameter.
FRUIT DISPLAYS
4. Display of fruit in a container of choice. Not to exceed 40cms x 30cms.
5. Display of soft fruits. Not to exceed 40cms x 30cms.
VEGETABLE DISPLAYS
6. Display of vegetables in a container. Not to exceed 40cms x 50cms.
7. Display of mixed salad produce in a container. Not to exceed 40cms x 50cms.
FOR CHILDREN
8. A sunflower.
9. A mini-scarecrow, up to 30cms tall, maximum width 60cms.
Exhibitors are permitted only 1 entry per class.
Exhibits must be removed between 4.15pm and 4.30pm, otherwise they may be auctioned/sold.
On Saturday, 27th July 2019 the sunshine ensured that record numbers of local villagers, families and visiting holidaymakers came to enjoy the entertainment on offer at the Kilmington Annual Flower Show and Village Fayre. There was plenty for visitors to see and do including old-fashioned skittles, all manner of games and a display of classic cars and motorbikes. Chicken races proved to be very popular! The dog show was another highlight with Kilmington residents Bertie the Flatcoated retriever winning Best in Show and Copper the Cocker Spaniel being placed second. The entertainment was provided by Mister Bumble who once again kept the children hugely entertained with his balloon making, tricks and magic. The children's fancy dress saw some very imaginative outfits, the winner being a robot! Garwynn's reptiles and bugs made a return visit to the Show and the attraction was obvious from the crowd around them all afternoon – indeed several Fayregoers were spotted wearing snakes!! The musical entertainment provided by The Smugglers, (a Ukelele band and The Jurassixs, Shanty singers), was greatly enjoyed by all. Carey's 'mobile New Inn' kept everyone well-watered while keeping the visitors well fed was the Kilmington branch of the RBL with their BBQ and the ladies from the Baptist church serving tea and cake. There was a great atmosphere with everyone relaxing and enjoying themselves.
Exhibits in the Floral Marquee ranged from brightly coloured flowers and floral arrangements, to vegetables and fruit, not to mention some very colourful and creative children's entries – masks and painted flower-pots galore! The other sections of the Gardening Club Show were displayed in the village hall – cookery, preserves, wine, craft work and there was some high-quality art work with some fascinating interpretations of Brexit! Photographers had four subjects to choose from, one of which resulted in some intriguing versions of 'Tunnel Vision'. We hope the photographs here and on the home page give an indication of the variety of the entries in all sections.
KILMINGTON GARDENING CLUB CUPS AND AWARDS IN THE ANNUAL SHOW 2019.
Parish Council's Awards for Allotments

1st:

Jasper Highet

Joint 2nd:

Stan Curran and Nigel Phillips

RHS Banksian Medal :
Overall champion for horticulture

Richard Lane

Club's Silver Challenge Bowl for Veg, Fruit and Flowers

Mike Hawkins

Breach Cup (flowers)

Sydie Bones

Bywood Challenge Cup (vegetables)

Mike Hawkins

Douglas C.J. Constable Cup (sweet peas)

Daphne Salter

Gwen Ward Rose Bowl (best bowl of roses)

Daphne Salter

Waysfield Cup (best single rose)

John Thorne

Farrants Cup (flower arranging)

Diana Mellows

Association's Silver Cup (preserves)

Phyllis Bellworthy

Mary Hibberd Cup (cookery)

Alan Finch

Kerslake Cup (wine and beer)

David Wilsdon/Pat Curran

Carey Potter Cup (handicraft)

John Mellows/Debbie Fudger

Thora Johns Cup (needlework)

Pearl Hurford

Kilmington Cup for Art

Stephanie Hathaway

Kilmington Cup for Photography

Anna Crabbe

See Kids' Corner for the winners of the Junior Classes.
Winners of the Junior classes:
| | |
| --- | --- |
| Pavilion Cup (year group 2 and below) | Ben Fudger |
| Colyer Shield (year groups 3-6 inclusive) | Abigail Obudo |
| Miller Cup (year groups 6-8 inclusive)) | Jemimah Obudo |
| Barrel Cup (year 7 and 8) | Phoebe Dare |
We were delighted to see so many lovely, imaginative entries in the Kilmington Fayre and Flower Show – many of them, including the finger-painted gardens, the painted flower pots and the carnival masks having been made at our Children's Workshop held a week before the Show.
The giraffe and elephant entries for a model animal made from junk also showed great ingenuity!
We also had a couple of future contenders for the Great British Bake Off with their
sponge cake recipes!
Annual Membership
The cost of annual membership remains at only £7 per person, which entitles you to free admission to our interesting monthly talks held in Kilmington Village Hall on the second Friday of the month.
Application Form
Contacts
B. J. Lewis (President)
01297-35159
Gill Gibbs (Chair)
01297-33121
Jean Falconer (Secretary)
01297-33708
David Bromley (Treasurer)
01297-631801
Beverley Perkins (Membership Secretary)
01297-631801
Lesley Rew (Talks Organiser)
07900-827689