Talk of the Month
AGM at Kilmington Village Hall: Friday, 12th November at 7pm.
Whats On in November
Killerton House, near Exeter, is a National Trust property and every year it offers special events for all the family over the Christmas period. Visit by day to see the traditionally decorated festive house, whilst little ones can get into the festive spirit with Percy The Park Keeper and his animal friends on a winter wander trail.
Visit after hours for a brand new, after-dark illuminated trail through festive gardens at Killerton. There will be an additional dash of sparkle and a sprinkle of seasonal cheer to over a million lights, larger-than-life illuminations and a warm, welcoming atmosphere. For more information and to book, click on the link: https://www.nationaltrust.org.uk/killerton/features/christmas-at-killerton-2021
Looking ahead in 2022
The RHS Flower Show dates have now been published. They are:
RHS Malvern Spring Festival: 5-5 May
RHS Chelsea Flower Show: 24-28 May
RHS Hampton Court Palace Garden Festival: 4-9 July
RHS Flower Show Tatton Park: 20-24 July
What to do in the garden this month
Plant tulips this month.
Improve soil by digging over bare ground and forking in well-rotted manure.
Move plants to correct planting mistakes (take as much soil as you can, stake, mulch and water well).
Collect fallen leaves from lawns to give grass more light.
Plant new fruit trees.
Plant evergreen shrubs, including new hedges while the soil is still warm.
Take hardwood cuttings from cornus, ribes, salix and roses as well as
shrubby herbs, such as rosemary, lemon verbena and thyme.
Improve the drainage on your lawn by spiking and brushing sharp sand or grit into the holes.
Clean out the greenhouse.
Wash pots before re-using or putting away.
Clean garden tools.
Christmas greenery, straight from the garden
What could be more lovely than stepping out on a cold and frosty morning to pick home-grown Christmas greenery, straight from the garden? Graham Rice offers some expert plant suggestions.
It used to be that the only option for holiday greenery in the home was the Christmas tree, along with holly and ivy. Now everything's changed, and very definitely for the better.
Today an increasing range of attractive evergreen alternatives for decorative foliage is available to use in wreaths, in table decorations and in long-lasting seasonal arrangements. And the great thing about so many of these alternatives is that you can grow them yourself at home. Here are ten options.
Numbers at the end of each entry refer to plant height and RHS hardiness rating.
Source: https://www.rhs.org.uk/plants/articles/graham-rice/shrubs-and-climbers/grow-your-own-christmas-greenery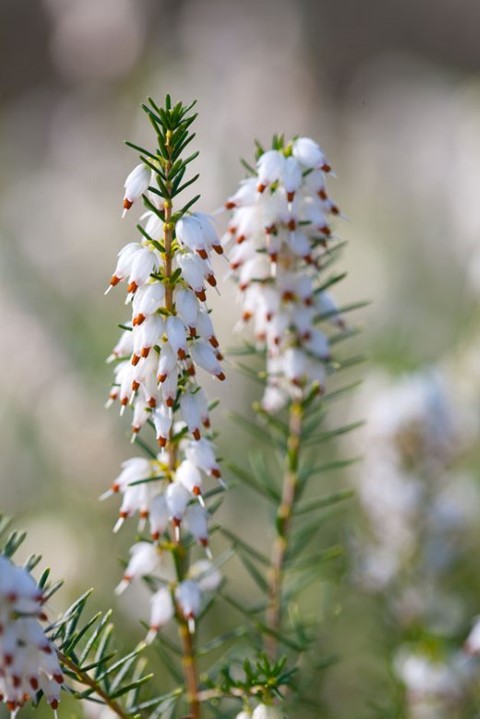 Winter heathers
More lime-tolerant than other heathers, winter heathers come in a range of foliage colours and with reddish, pink or white flowers. There are more varieties of Erica carnea, but E. × darleyensis is taller, with longer stems that intertwine better into wreaths. 'White Perfection' AGM has clusters of white winter flowers like the first snowflakes. 45cm (18in), H5.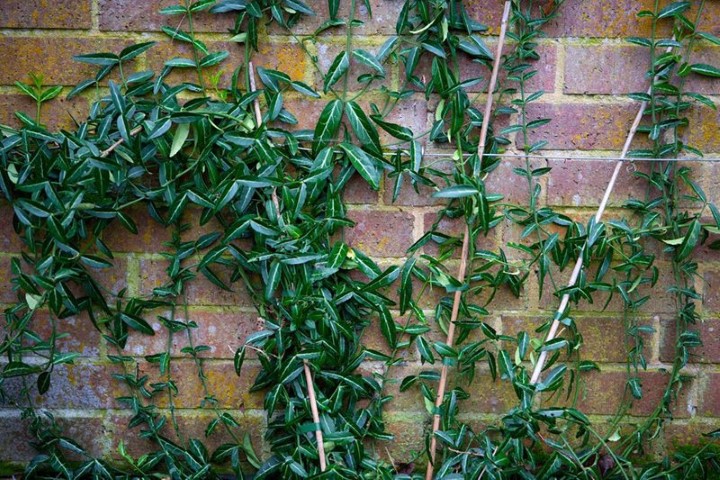 Sharply shaped
Each individual dark green leaf of Euonymus fortunei 'Wolong Ghost' AGM is shaped like a dagger and features a ghostly white band along the midrib with spidery white veins. Carried on extending shoots which make good ground cover, 'Wolong Ghost' will also climb, clinging by aerial roots. The long branches are ideal to weave into wreaths. 30cm (12in), H5.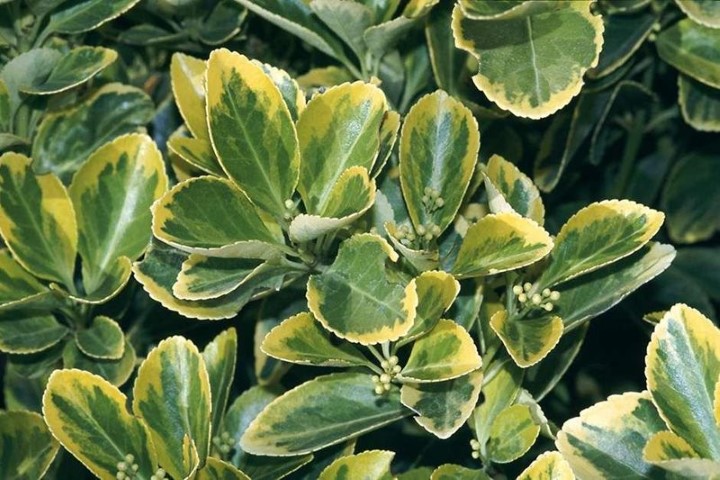 Edged in gold
The densely packed, upright growth of Euonymus japonicus 'Ovatus Aureus' AGM is a rich and shining green with the edge of every glossy leaf irregularly coloured in gold, brightest on the younger growth. Plant in a sunny situation to promote the best colour. Not the most vigorous, but creates sunny sparks in Christmas wreaths. 1.2m (4ft), H5.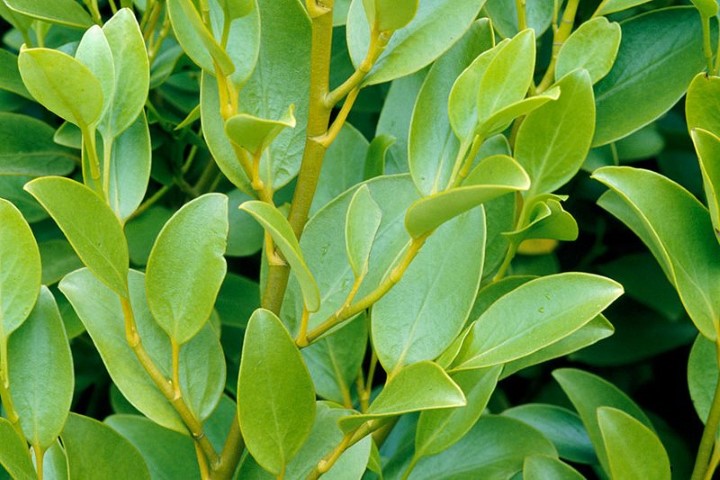 Fresh and bright
The rounded foliage of Griselinia littoralis AGM has such a clean and shining look, noticeably paler and glossier than holly with its deep green colouring, that blending the two is a very effective approach. 3m (10ft), H5. 'Variegata' AGM features the addition of creamy or pale yellowish margins to the foliage although the plants are less vigorous and slightly less hardy, growing to 1.8m (6ft), H4.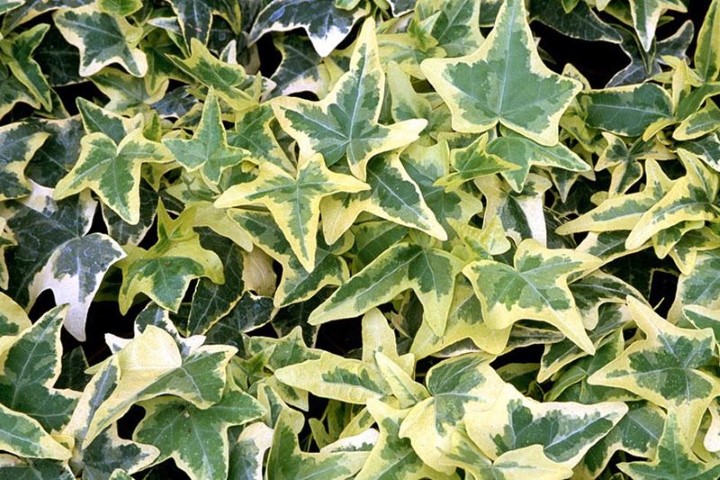 Colourful ivy
You might have pulled some wild ivy from a fence or a tree trunk to help fill out your Christmas greenery, and it works well. But, like wild holly, the leaves are very dark. Variegated kinds, such as Hedera helix 'Ceridwen' AGM with its bold, three pointed leaves with bright yellow margins are far more colourful. Sometimes even the whole leaf is bright yellow. 2m (6½ft), H5.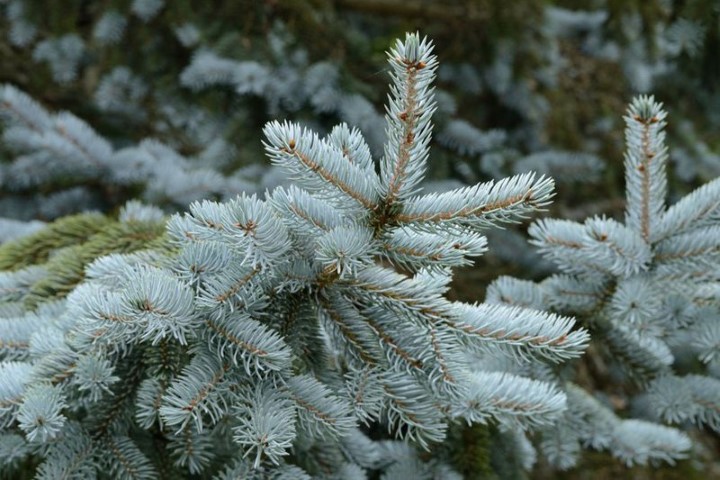 Winter blues
The blue needles of this dwarf form of the Colorado spruce (Picea pungens (Glauca Group) 'Hoopsii') AGM make a bright, refreshing change from darker shades, bringing a lift of light to wreaths and table centrepieces. Avoid the dense dwarf varieties such as 'Globosa'; they just don't produce enough growth, and don't expect your 'Hoopsii' to look elegant if you cut off branches every Christmas so plant in an out-of-the-way spot. 2.5m (8ft), H7.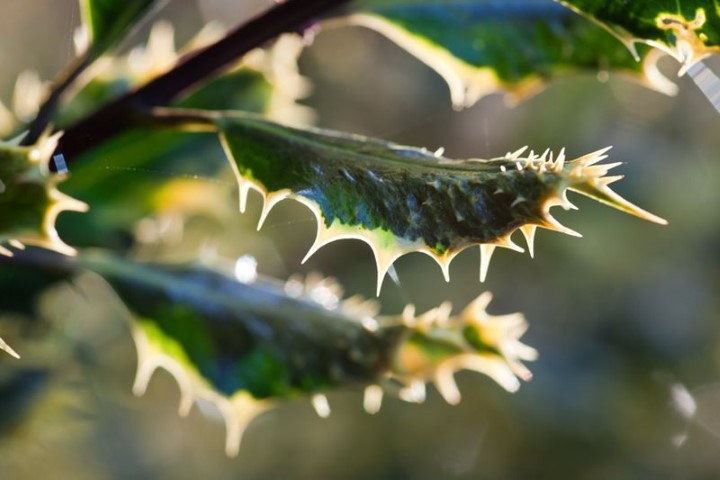 Holly with a difference
The few holly varieties without spines are often recommended, for obvious reasons, but Ilex aquifolium 'Ferox Argentea' AGM goes the other way. Exceptionally spiny, even with spines growing out of the blades of the leaves, 'Ferox Argentea' has purple stems, creamy edges to the leaves and a mass of spines. Intriguing and effective, but no berries. Height up to 8m (26ft), but can be pruned to keep it much smaller. H6.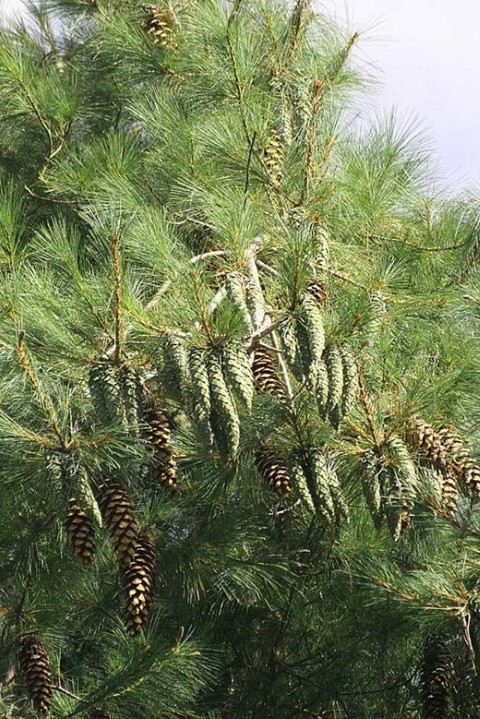 White Christmas pine
Planting a pine for Christmas greenery may be a surprising idea, but one with such beautiful long needles – reaching 15cm (6in) in length – is a very useful addition to our palette of seasonal decorations. The Weymouth or white pine, Pinus strobus, grows strongly (though it dislikes limy soil). Cutting boughs for Christmas is not going to improve its shape so choose its planting site carefully. 5m (16ft), H7.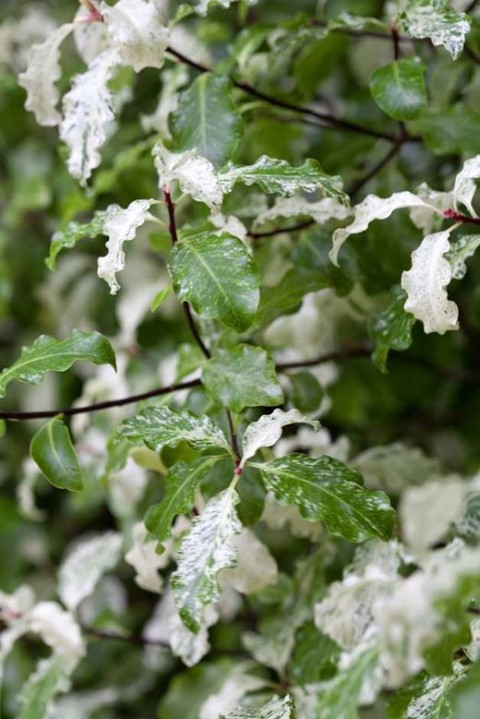 Silver charmer
The combination of small, neat foliage, splashed with cream and held on slender but stiff shoots, plus a tolerance of pruning, makes Pittosporum tenuifolium 'Irene Paterson' AGM an ideal shrub for garden use and for cutting for indoors. Its vigour held in check by this regular pruning, at this time of year the foliage often develops a pink tinge. 2.5m (8ft), H3.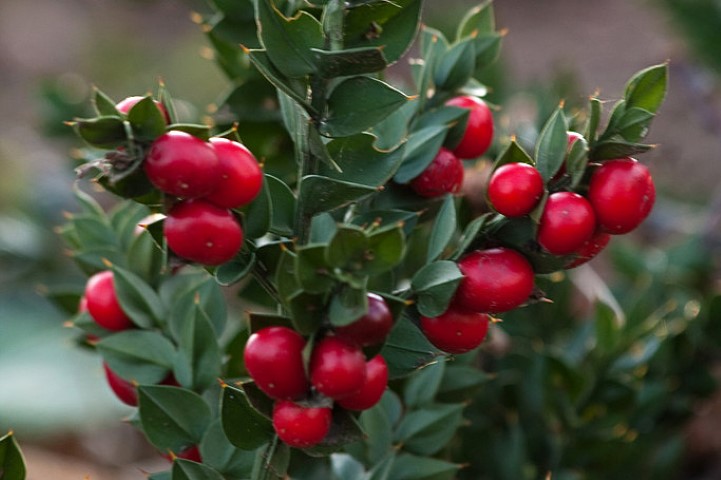 Longest lasting evergreen
Ruscus aculeatus, butcher's broom, is probably the evergreen that lasts longest when cut and still looks good, even without water, weeks after cutting. The variety 'John Redmond' AGM has the bonus of producing bright red berries and, unlike most other forms, without the need of an additional male plant. It's also tough, resilient and will grow in dry shade. 75cm (30in), H5.
Dahlia
The Dahlia has been in Europe for over two hundred years. It came from Mexico to the Botanical Gardens in Madrid towards the end of the eighteenth century and was named by Abbe Cavanille in honour of Andreas Dahl, Swedish scientist-cum-environmentalist.
The initial named species imported into Europe were Dahlia pinnata, Dahlia rosea and Dahlia coccinea. The first dahlias grown outside of Madrid were single (open-centred) and multi-ray open centre flowered, but it was not long before the horticultural growers of the day discovered the Dahlia was a natural hybrid and when grown from seed, it readily changed its form and colour, so that today we have a range of Dahlia types that offer something to please everyone.
The first double flowered cultivars were called Show and Fancy types. The Show were self-coloured, ball like flowers, while the Fancy ones were multi-coloured. During the mid-1800's, these show and fancy flowers attained cult status with gardeners, and several thousand different cultivars were recorded. Other forms followed, in 1829 the first Anemone-flowered dahlia appeared and then in 1850 the first Pompon were raised in Germany, and was named after the bobble on a French Sailor's hat. The origin of the Cactus and Decorative type belongs to the arrival of "Juarrezii" according to the written records it was imported as a piece of tuber from Mexico in 1872 to Holland. M.Van de Berg of Uttrecht who had received this so-called species (actually a cultivar) from Mexico and released stock of the cultivar in 1874.
Subsequently "Juarrezii", named after a President of Mexico, was introduced into the UK by W. Cullingford who would become Vice President of the National Dahlia Society. After 1880 Collarettes are the last form of dahlia to have been raised, they have their origin in France and are due to the sporting of dahlias at Jardin Botanique de Lyon at the end of the 19th century.
Today, there are cultivars in the form of the waterlily, the paeony, the orchid, the chrysanthemum and the anemone, to say nothing of the main formations like the decorative (flat, broad petals), the cactus and semi-cactus types (rolled, pointed petals) and the ball forms (globular flowers) that have as their smallest relative the popular Pompon Dahlias that beguile so many gardeners.
There is every colour and colour combination to choose from, except the elusive blue which is covered by the wide range of violet and mauve cultivars. Sizes range from the smallest types, called Topmix or Lilliput Dahlias to the giants that have blooms over a foot in diameter carried on powerful stems.
Today's hybridisers are still seeking the true blue dahlia, as well as one with a scent, and one that is frost hardy.
Source: http://www.dahlia-nds.co.uk/about_dahlias/Dahlia_History.htm
Annual Membership
The cost of annual membership remains at only £7 per person, which entitles you to free admission to our interesting monthly talks held in Kilmington Village Hall on the second Friday of the month.
Application Form
KILMINGTON KIDS' CORNER
Don't forget that if you have any gardening stories or photos to share with us, we would love to hear from you!
Autumn is not only a wonderful time of year with crunchy, colourful leaves and cooler weather, but it is also a great time to learn some new autumn facts. When you think of autumn, you probably think of cooler weather, going back to school, Halloween and falling leaves, but what else do you know about the season?
Autumn is one of four seasons that occurs from roughly 21st September to 21st December. In the USA it is more commonly known as "fall" because the leaves fall off deciduous trees during the season. Here are some more autumn facts for you.
Leaf Facts
Think you know everything there is to know about leaves? You may be surprised to learn the following facts:
Leaves require sunlight, water, chlorophyll and carbon dioxide to make food for themselves.
As winter approaches, leaves make a coating for themselves which blocks their water source; in the absence of water, the leaves no longer produce chlorophyll (chlorophyll is what makes leaves green).
When the leaves turn colours in the autumn, they actually are returning to their normal colours. During the summer months, the chlorophyll present in the leaves causes the leaves to turn green, blocking the leaves' actual colours.
Along with chlorophyll, leaves contain two other chemicals that cause colouring. The first is called xanthophyll, which is yellow in colour. The other is carotene, which is orange in colour.
Red and purple leaves are actually caused by the presence of sugars from sap that is trapped inside of the leaves.
Once the leaves have turned brown, they are dead and no longer receive any nutrients.
Where is the best place in Kilmington to see autumn leaves? Let us know! info@kvpa.co.uk
Contacts
B. J. Lewis (President)
01297-35159
Gill Gibbs (Chair)
01297-33121
Jean Falconer (Secretary)
01297-33708
David Bromley (Treasurer)
01297-631801
Beverley Perkins (Membership Secretary)
01297-631801
Lesley Rew (Talks Organiser)
07900-827689