Talk of the Month
Preparing for Christmas!
Whats On in December
Killerton House, near Exeter, is a National Trust property and every year it offers special events for all the family over the Christmas period. Visit by day to see the traditionally decorated festive house, whilst little ones can get into the festive spirit with Percy The Park Keeper and his animal friends on a winter wander trail.
Visit after hours for a brand new, after-dark illuminated trail through festive gardens at Killerton. There will be an additional dash of sparkle and a sprinkle of seasonal cheer to over a million lights, larger-than-life illuminations and a warm, welcoming atmosphere. For more information and to book, click on the link: https://www.nationaltrust.org.uk/killerton/features/christmas-at-killerton-2021
Looking ahead in 2022
The RHS Flower Show dates have now been published. They are:
RHS Malvern Spring Festival: 5-5 May
RHS Chelsea Flower Show: 24-28 May
RHS Hampton Court Palace Garden Festival: 4-9 July
RHS Flower Show Tatton Park: 20-24 July
What to do in the garden this month
Plant bare root roses in well-prepared soil.
Harvest holly with berries for making Christmas decorations; stand them in a bucket of water until you are ready to use them.
Improve soil by incorporating compost.
Lift and divide large clumps of rhubarb.
Take hardwood cuttings from healthy fruit bushes, including currants and gooseberries.
Transplant shrubs and conifers that have outgrown their position.
Ornamental grasses and bamboos can be cut back this month.
Raise patio containers onto feet or bricks to avoid them sitting in the wet during winter.
Leave the faded flower heads on your hydrangeas until the spring as they provide frost protection to the swelling buds further down the stems.
Protect your Poinsettias from cold draughts and allow them to dry out slightly between waterings to make them last for the whole Christmas period.
Plant out indoor grown forced hyacinth bulbs in garden beds and borders after Christmas flowering is over. They will flower again next year.
Wash and disinfect bird feeders and bird tables. Clean out bird baths too.
Don't forget to protect your outdoor taps and pipes with insulating foam.
Christmas greenery, straight from the garden
What could be more lovely than stepping out on a cold and frosty morning to pick home-grown Christmas greenery, straight from the garden? Graham Rice offers some expert plant suggestions.
It used to be that the only option for holiday greenery in the home was the Christmas tree, along with holly and ivy. Now everything's changed, and very definitely for the better.
Today an increasing range of attractive evergreen alternatives for decorative foliage is available to use in wreaths, in table decorations and in long-lasting seasonal arrangements. And the great thing about so many of these alternatives is that you can grow them yourself at home. Here are ten options.
Numbers at the end of each entry refer to plant height and RHS hardiness rating.
Source: https://www.rhs.org.uk/plants/articles/graham-rice/shrubs-and-climbers/grow-your-own-christmas-greenery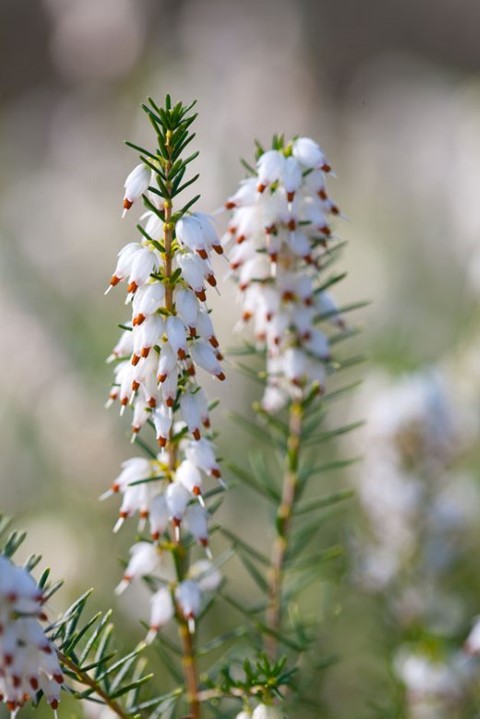 Winter heathers
More lime-tolerant than other heathers, winter heathers come in a range of foliage colours and with reddish, pink or white flowers. There are more varieties of Erica carnea, but E. × darleyensis is taller, with longer stems that intertwine better into wreaths. 'White Perfection' AGM has clusters of white winter flowers like the first snowflakes. 45cm (18in), H5.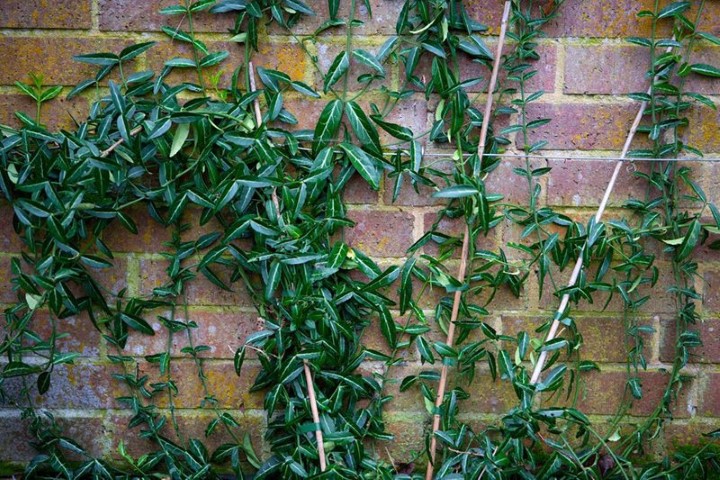 Sharply shaped
Each individual dark green leaf of Euonymus fortunei 'Wolong Ghost' AGM is shaped like a dagger and features a ghostly white band along the midrib with spidery white veins. Carried on extending shoots which make good ground cover, 'Wolong Ghost' will also climb, clinging by aerial roots. The long branches are ideal to weave into wreaths. 30cm (12in), H5.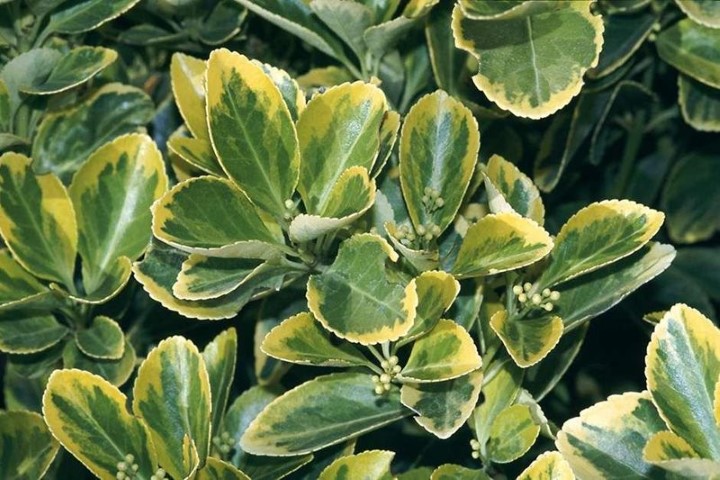 Edged in gold
The densely packed, upright growth of Euonymus japonicus 'Ovatus Aureus' AGM is a rich and shining green with the edge of every glossy leaf irregularly coloured in gold, brightest on the younger growth. Plant in a sunny situation to promote the best colour. Not the most vigorous, but creates sunny sparks in Christmas wreaths. 1.2m (4ft), H5.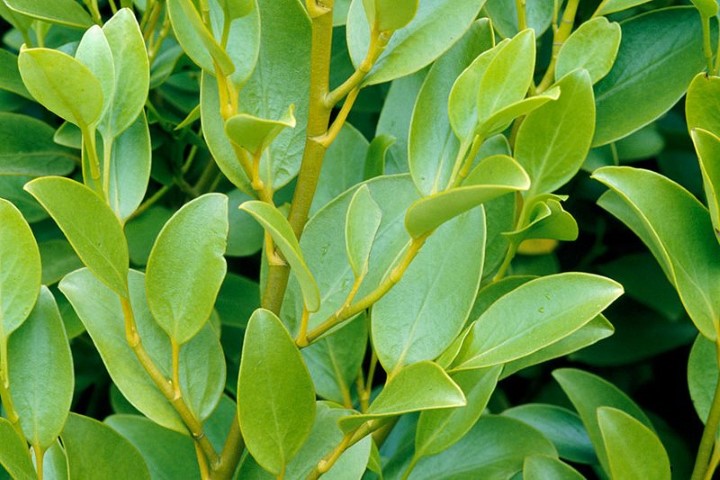 Fresh and bright
The rounded foliage of Griselinia littoralis AGM has such a clean and shining look, noticeably paler and glossier than holly with its deep green colouring, that blending the two is a very effective approach. 3m (10ft), H5. 'Variegata' AGM features the addition of creamy or pale yellowish margins to the foliage although the plants are less vigorous and slightly less hardy, growing to 1.8m (6ft), H4.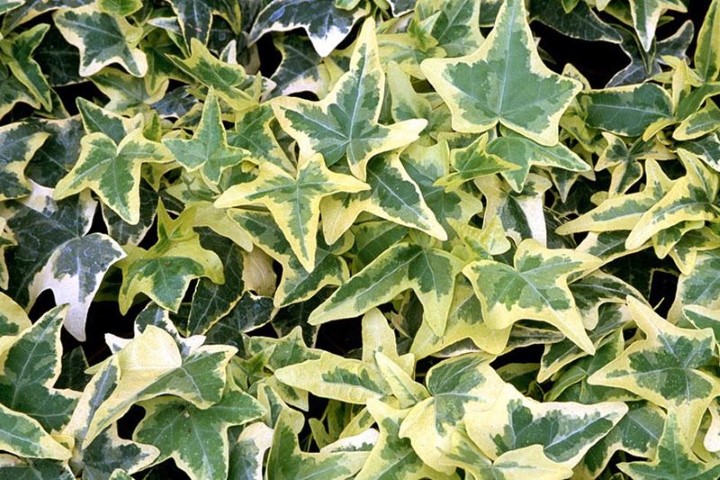 Colourful ivy
You might have pulled some wild ivy from a fence or a tree trunk to help fill out your Christmas greenery, and it works well. But, like wild holly, the leaves are very dark. Variegated kinds, such as Hedera helix 'Ceridwen' AGM with its bold, three pointed leaves with bright yellow margins are far more colourful. Sometimes even the whole leaf is bright yellow. 2m (6½ft), H5.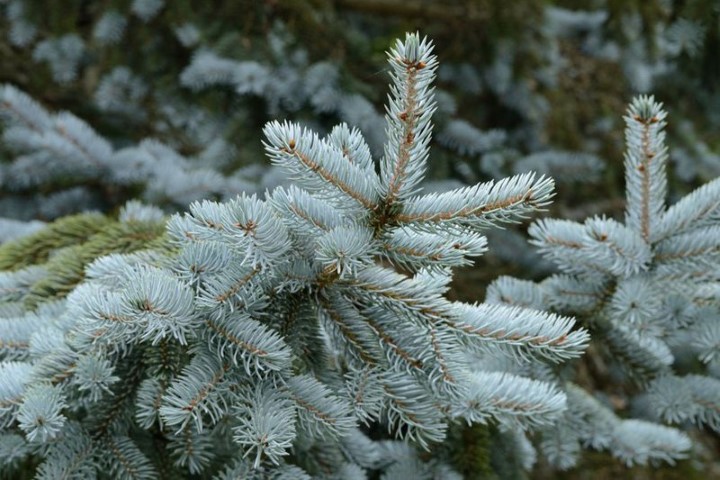 Winter blues
The blue needles of this dwarf form of the Colorado spruce (Picea pungens (Glauca Group) 'Hoopsii') AGM make a bright, refreshing change from darker shades, bringing a lift of light to wreaths and table centrepieces. Avoid the dense dwarf varieties such as 'Globosa'; they just don't produce enough growth, and don't expect your 'Hoopsii' to look elegant if you cut off branches every Christmas so plant in an out-of-the-way spot. 2.5m (8ft), H7.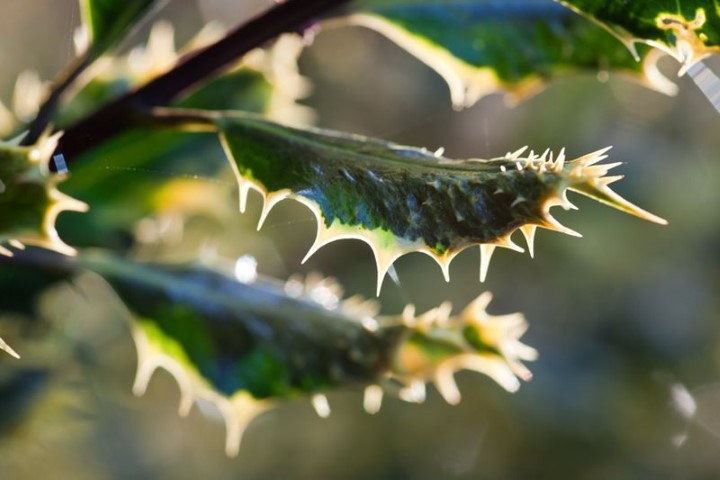 Holly with a difference
The few holly varieties without spines are often recommended, for obvious reasons, but Ilex aquifolium 'Ferox Argentea' AGM goes the other way. Exceptionally spiny, even with spines growing out of the blades of the leaves, 'Ferox Argentea' has purple stems, creamy edges to the leaves and a mass of spines. Intriguing and effective, but no berries. Height up to 8m (26ft), but can be pruned to keep it much smaller. H6.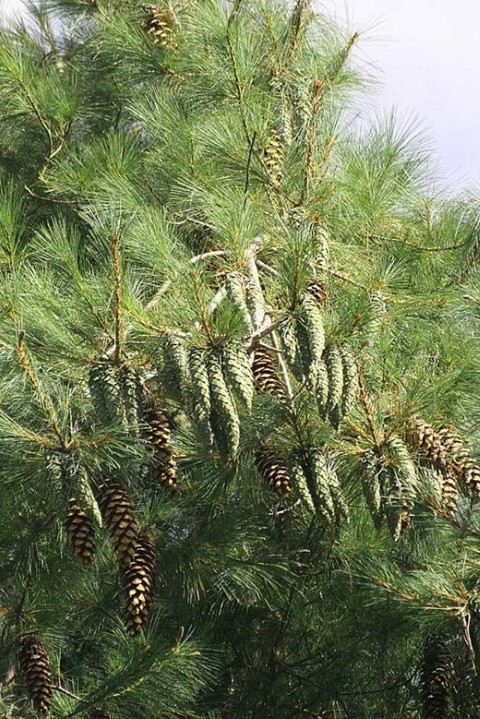 White Christmas pine
Planting a pine for Christmas greenery may be a surprising idea, but one with such beautiful long needles – reaching 15cm (6in) in length – is a very useful addition to our palette of seasonal decorations. The Weymouth or white pine, Pinus strobus, grows strongly (though it dislikes limy soil). Cutting boughs for Christmas is not going to improve its shape so choose its planting site carefully. 5m (16ft), H7.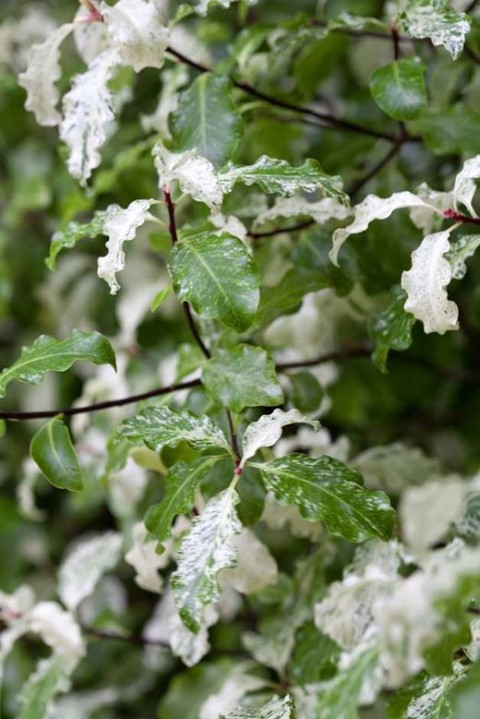 Silver charmer
The combination of small, neat foliage, splashed with cream and held on slender but stiff shoots, plus a tolerance of pruning, makes Pittosporum tenuifolium 'Irene Paterson' AGM an ideal shrub for garden use and for cutting for indoors. Its vigour held in check by this regular pruning, at this time of year the foliage often develops a pink tinge. 2.5m (8ft), H3.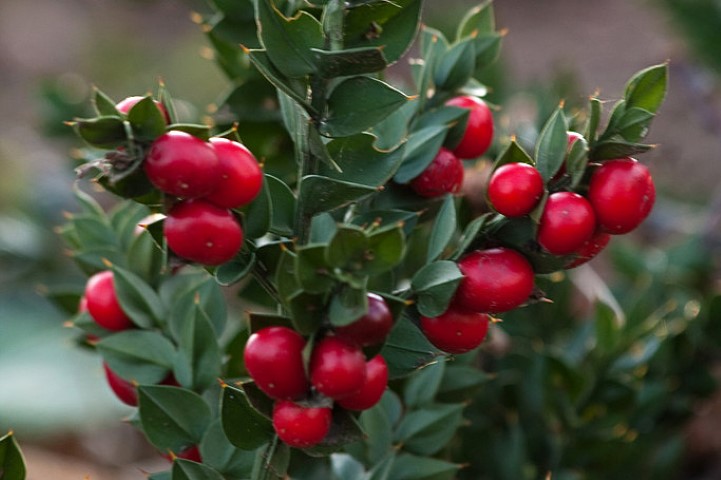 Longest lasting evergreen
Ruscus aculeatus, butcher's broom, is probably the evergreen that lasts longest when cut and still looks good, even without water, weeks after cutting. The variety 'John Redmond' AGM has the bonus of producing bright red berries and, unlike most other forms, without the need of an additional male plant. It's also tough, resilient and will grow in dry shade. 75cm (30in), H5.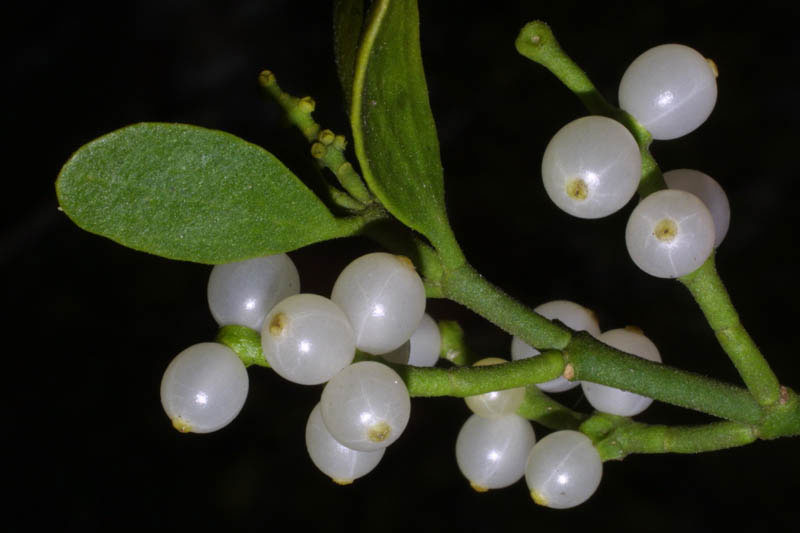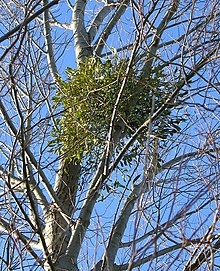 Mistletoe
The word 'mistletoe' derives from the Germanic form 'mistle', adding the Old English word tān (twig). Mistletoe is the common name for most obligate hemi-parasitic plants which successfully parasitise more than 200 tree and shrub species. They attach to and penetrate the branches of a tree or shrub by a structure called the haustorium, through which they absorb water and nutrients from the host plant. Historically mistletoe (or Viscum album) is thought to have had magical powers, providing protection against thunder, lightning and other evils as well as curing illnesses and guaranteeing good health.
The Romans would have us believe that when Jupiter descended from Heaven, he took up residence in a mistletoe bush. Medea, the sorceress in Greek mythology, gathered up the plants with a brass hook and used the berries (which are only found on the female plant) to make magic potions, and when Aeneas wanted to visit his dead father in Hades, he used the golden mistletoe bough to charm his way across the Styx.
The Druids also placed faith in its powers, and organised elaborate ceremonies to collect it on the fifth day of the first new moon of the year. Berries were then turned into potions which were believed to prevent sterility. Fertility is a common theme in mistletoe legend and clearly carries over into our present-day customs!
Mistletoe grows in the branches of trees such as hawthorn, poplar and lime, although in the UK the most common hosts are cultivated apple trees.
Despite growing on trees, mistletoe is not generally found in a woodland setting, preferring hosts in open situations with plenty of light. You're more likely to see it in gardens, orchards, parkland and even churchyards. This means that mistletoe would have been less abundant in ancient times when woodland was more typical.
It's commonly found in Wales, the West Midlands and the South of England, with particularly large populations in Gwent, Herefordshire, Worcestershire, Gloucestershire and Somerset. It was once thought that this clustering was due to the number of apple orchards in these regions, but this has been proved incorrect as orchards are found in locations where mistletoe is absent.
Mistletoe is widely scattered elsewhere in England and Wales, but is rarely seen in eastern and northern England and Scotland.
Jonathan Briggs has written A Little Book about Mistletoe which explains what mistletoe is, and why it has such an unusual place in tradition, myth and legend, especially at Christmas. There is lots more intriguing information about mistletoe at: http://mistletoe.org.uk/homewp/index.php/traditions/christmas-new-year/
References:
https://en.wikipedia.org/wiki/Mistletoe
https://www.rhs.org.uk/education-learning/blogs/libraries/december-2014/miraculous-mistletoe
Mistletoe and holly by Sophia Prior

Grown your own mistletoe by Nick Wheeldon
https://www.woodlandtrust.org.uk/blog/2018/12/where-does-mistletoe-grow/
Annual Membership
The cost of annual membership remains at only £7 per person, which entitles you to free admission to our interesting monthly talks held in Kilmington Village Hall on the second Friday of the month.
Application Form
KILMINGTON KIDS' CORNER
Don't forget that if you have any gardening stories or photos to share with us, we would love to hear from you!
At Christmas time we sing about 'the holly and the ivy' but what do you know about them? Here are a few interesting facts:
Ivy (its official name is 'Hedera helix') is a woody, evergreen climber that grows up walls, fences and trees using tiny roots to cling to walls and buildings; in woods it can also carpet the ground. It has glossy, green leaves. It is a valuable plant for insects filling up on nectar before hibernating and for many birds, such as blackbirds and thrushes. Ivy berries ripen in winter, when most other berries have already been eaten.
It grows in any soil and tolerates both deep shade and full sun. However, only shoots in the sun produce flowers. It is poisonous to humans.
Holly (its official name is 'Ilex aquifolium') is an excellent evergreen shrub for a wildlife garden. It has tough, prickly, glossy, dark green leaves and can grow into a relatively tall tree.
Male and female flowers are on separate shrubs; for a female shrub to produce berries, it must be pollinated by a male growing nearby. Holly appears frequently in folklore and is commonly associated with Christmas.
It grows in any soil and copes well with full sun or shade.
Some of the creatures that benefit from the Holly tree:
Bees and bumblebees collect its nectar and pollen.
Caterpillars of the holly blue butterfly eat its buds and flowers.
Many birds, such as thrushes, robins, dunnocks, finches and goldcrests, use it for nesting as it provides excellent protection.
Blackbirds, fieldfares, redwings, mistle and song thrushes, among others, eat the berries.
Hedgehogs, small mammals, toads and slow worms hibernate in the deep leaf litter that builds up beneath it.
Gardens are full of wildlife at all times of the year, even when the weather is cold. Keep an eye on your garden this winter, and see if you can spot any wildlife with this handy worksheet from the Wildlife Trust.
https://www.atouchofthewild.co.uk/wp-content/uploads/2019/01/Winter-Garden-Wildlife-Spotter.png
Merry Christmas!
Contacts
B. J. Lewis (President)
01297-35159
Mary-Anne Driscoll (Chairman)
07778-000200
Beverley Perkins (Secretary and Membership Secretary)
01297-631801
Jean Falconer (Show Secretary)
01297-33708
Jennie Seaton (Treasurer)
01297-739107
Christine Mills (Outings Secretary)
Tel: 01297-599018
Jane Chalk (Vice-Chairman and Plant Market Organiser)
Tel: 01297-33063
Lesley Rew (Talks Organiser)
Tel: 07900-827689